Below are a selection of links to Nihonto stores, Information sites and services.
Some of them are our regular contributors and I have also added some my personal favorites.
In regards to the sales sites, I have listed only sites that I have had personal experience with or which are regular contributors and supporters of the Nihonto Message Board.

In Memory of Jim Kurrasch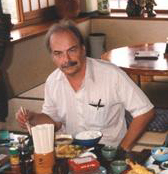 Photo courtesy of Jim Gilbert
In fond memory of Jim Kurrasch. Sadly, Jim passed away on the 8th of September 2003
after hard fought battle with heart disease. He will be greatly missed. I have added
a link to his web site so we may continue to enjoy his wisdom and efforts in Nihonto
for as long as his site is available.

Japanese Swords
---
Recommended Reading

This link will take you to a page of books I recommend to all collectors, novice and advanced alike.

Recommended Reading
---
Discussion Forums

TOSOGU.COM Forum
As part of the Tosogu.com Blog, and attached to the Nihonto Kanji Pages this forum caters for tosogu only including tsuba, fuchi kashira, menuki, kozuka, kogai as well as koshirae and other fittings related items. No Ebay discussion. For seriosu students of tosogu.
---
NIHONTOSTUDY (Yahoo)
Jim Gilbert runs this forum that is dedicated mostly to Tosogu study. This is a Yahoo forum so Yahoo membership is required. Membership is required to both read and post messages.
---
The TOKEN FORUM
Justin Orr in Australia runs this excellent forum. Set ofr the serious discussion of Nihotno. This forum is free of idle Ebay chat, and is a no nonsese board for serious students of Nihonto.
---
FOLLOWING THE IRON BRUSH
Ford Hallam in South Africa runs this excellent forum for students and artist of art. This forum is dedicated to craftspersons who make a myriad of items form tosogu, netsuke, wood carving and more. If yo uhave ever wondered how some of these items may have been made ?, this is the place to find out.
---
ETUDE du SABRE JAPONAIS
A french forum for the discussion of all things Nihonto related. French language only but there aree some friendly English speaking members who are happy to help out. They have some excellent items on display.
---
The NIHONTO MESSAGE BOARD
Brian Robinson runs this forum aimed more towards beginners thought it has a good amount of serious students as well. Ebay discussion is allowed. It is a PPB based forum and can be a little slow to operate depending on your browser etc.
---
Information sites

TOSOGU.COM
Tosogu.com is an information site aimed at squarely at tosogu. This is not as much a forum as it is a collection of thoughts. Membership is by invitation only. Contributors may contact the blog to offer articles.
---
---
TSUBA - ART OF THE JAPANESE SWORD
Jim Gilbert runs the most comprehensive site on the
Internet relating to all things tsuba.
Tsuba - Art of the Japanese Sword
THE JAPANESE SWORD INDEX
Dr Richard Stein's award winning site on everything Nihonto related.
Alternate site.
http://home.earthlink.net/~steinrl/nihonto.htm
---
NIHONTO NO BI
This site was created by Mal and Sueko Cox. It contains much information on Mino swords and many oshigata, which are cross-referenced to Mal's book "Swords and Swordsmiths of Mino Province". There is also an extensive gallery of tsuba with support information, especially for Echizen Kinai, Yamashiro Tenpo and various ji-sukashi schools.
---
HIZENTO
Roger Robertshaw's excellent and well informed site on Hizento and particularly, Hizen Tadayoshi. Lots of information and items for sale, and he is very obliging with help on all things Hizen.
---
MEIBOKU
Alan Quinn's site has much information and excellent charts on Japanese characters, Sword characteristics and more.
PLEASE NOTE. Alans site has seem to gone off line. If anyone has any contact information,
I would greatly appreciate it so I can get in contact with him.
---
NIHONTOCRAFT.com
Danny Massey runs this excellent site, which contains some of the best
images of sword details I have seen. The picture of the Jingane, Nioi, Nie and Hataraki
are wonderful. A very useful visual reference.
---
CHOSHUYA GINZA
Besides being one of the most prestigious sword stores in Japan,
Choshuya Ginza has some excellent information on swords and fittings, on how to
care for and identify them, and information on various swordsmiths.
How to take blade out of saya, tang out of tsuka
Names and explanation of each Sword part
Classification of Sword Smiths
---
SHINSAKUTO.org
Thomas Jason's excellent site on modern swords or shinsakuto
---
JAPANESE SWORD MAKING PROCESS
Jinsoo Kim offers this excellent page on the sword making
process based on valuable photos performed by the late national treasure, Miyairi Akihira
(1913-1977). These photo's are old but are very informative as is the text describing each
part of the process. A great read.
---
NIHONTO KNOWLEDGE BASE
The Nihonto Knowledge Base is a community-driven effort to have a reliable online database
of Swordsmiths and the era's they worked in. To access this site, click on this link below.
---
NIHONTO COMMUNITY CALENDAR
This data base that keeps tabs on Japanese sword study meetings and events worldwide. Intended to serve as a home page, it also includes: a search engine, world clocks, currency converter, and daily world news from top syndicated providers such as CNN and BBC.

---
MODERNTOSHO.COM
Moderntosho's goal is to help bring attention to the work of modern Japanese swordsmiths in the English speaking market and eventually offer a wide variety of swords ranging from the "up and comers" to the best smiths working in Japan today.
---
JP-SWORD.COM
Dr. Jinsoo Kim's website has probably the best information in regards to WW2 swords on the internet. Jinsoo has over the years aquired much information on Gunto swords and sword smiths and it is all here amongst the pages on his website.
---
Commercial Sites and Appraisals
YAMABUSHI ANTIQUES
Andy, Boris and Henry run this excellent site that offers a lot of excellent information and has many excellent items for sale including Armor and fittings. Nice guys and highly recommended.
---
NIHON TO
Fred Weissberg's site offers much excellent information and many lovely items for sale
including Juyo quality swords and high quality fittings.
---
NIHONTO.US
Andrew Quirt's site offers an axcellent selection of Juyo and non Juyo swords, tsuba, tosogu and other items. Andy offers a great service and is very helpful and has a great knowledge of Nihonto.
---
SEIKEIDO
One of my favorite two Japanese sites. Seikeido stock excellent Swords and tsuba, have no trouble
communicating in English and are easy to deal with. This site is only availabler in Japanese
---
GINZA CHOSHUYA Co.Ltd.
Ginza Choshuya is one of the premier Japanese sites for swords and fittings. The quality of their
product is very high. This page is also in English and has some very useful information on it as well.
---
JAPANESE SWORD COLLECTOR
Louis Skebo offers a fine range of Japanese Swords, Fittings and Antiques for sale. Louis is a long
time member and an active contributor of the NMB.
---
NIHONTO.CA
Darcy Brockbank offers Juyo quality swords as well as many other fine swords fittings for sale.
He also has some general information and an excellent section on sword photography. Darcy is a
long time member and an active contributor of the NMB.
---
NIHONTOCRAFT.com
Danny Massey runs this excellent site. It has many fine swords and tsuba for sale, along with books
And other fine Japanese arts. Danny also has some excellent articles on Nihonto and very useful reference
images for the new and seasoned collector alike.
---
NIHONTO.US
Andy Quirt runs this fine web site with both Juyo and Tokubetsu Hozon and Hozon swords of very fine quality.
Andy also has a great range of tsuba and other fittings. There is also an excellent section on Japanese Armour.
---
USAGIYA
Noriko and Sumei Kashima run this excellent site with items for sale as well as good information
on Swords and Tsuba including a nice little section on tekkotsu or the Iron bones that are found in tsuba.
---
YAKIBA
Ed Marshall runs this site that has many nice swords, fittings, books and other items for sale.
Ed is a long time member and an active contributor of the NMB.
---
JAPANESESWORD.COM
Alf Tan runs this great site that has many nice swords on offer as well as swords that are very affordable
for the new collector. Alf also has many fittings, books and other items on offer.
Alf is both an active supporter of and contributor to the Nihonto Message Board.
---
JP-SWORD.COM
Dr. Jinsoo Kim's website JP-SWORD.com has swords, fittings and books on offer. Jinsoo has on occasion a great selection of Gunto swords from WW2. Jinsoo has been known in the Nihonto community for many years and is very friendly and esy to deal with.
---
JAPANESE AUCTION LINKS
These links are for Japanese auctions sites JSA ( Japanese Sword Auctions ) Yahoo and Bidders. It
is possible with the right contacts to have bids placed in Japan on your behalf. One can pick up
good quality fittings at very good prices on these sites. I can personally recommend JSA.
---
Book Sales


AFU RESEARCH
Harry ( Afu ) Watson offers his fantastic English translations of the Nihonto Koza Series as
well as JSSUS books and other publications.
---
BRIDGE OF DREAMS
Craig Harris is based in the US and his company, Bridge of Dreams specializes in rare books about
and from Asia, especially Japan, and fine books in select other fields. Craig has many excellent
titles relating to Nihonto and Tosogu. His service is first class and he is very easy to deal with.
---
ALAN BALE
Alan Bale is based in the UK and offer a wide range of hard to find books on Swords and Fittings
at great prices in both English and Japanese. Ask Alan for his full catalogue.
---
SATCHO
Michael Harris runs Satcho and they have a huge range of hard to find and out of print books on
Nihonto, Tsuba, Polearms, Amour, Samurai and much more. Very friendly and excellent service.
---
TOKENSIBATA
Japanese based book seller that has a large selection of books at very reasonable price.
The site is in Japanese but the owner speaks good English so just email and ask.
---
KOSHOYAMA
Japanese Nihonto Book store with a huge selection on all things Nihonto. The site is in English
and Japanese, the prices are great and they speak English as well
---
Sword Polishers ( togi )

KENJI MISHINA
Mishina sensei is one of Japan's premier Japanese sword polishes. Mishina sensei offers a full
range of Japanese Sword Restoration and services.
---
NIHONTO ANTIQUES Moses Beccera offers Japanese sword restoration, shirasaya and habaki services.
Moses can also arrange for sayagaki and shinsa services.
---
BUSHIDO
Robert Benson offers Japanese sword restoration, shirasaya and habaki services,
kodogu services and shinsa services.
---
LOUIS SKEBO
Louis offers restoration services of Japanese Swords and has the facilities to arrange
for new Shirasaya and Habaki.
---
KEICHODO
Robert Hughes is an agent based in Japan that offers all required services getting your
swords in and out of Japan, customs clearances and licensing, and arranges for togi,
shirasaya, shinsa and all other forms of restoration services.
---
Japanese Sword Preservation Societies
and Sword Clubs.

JAPAN
NBTHK - Nihon Bijutsu Token Hozon Kyokai
UNITED STATES
NCJSC - Northern California Japanese Sword Club
JSSUS - The Japanese Sword Society of the United States
Europe
The Token Society of Great Britain